PVC Coated U- Bolt / Clamp
Benefits of using PVC Coated U- Bolt / Clamp

PVC Coated U-Bolts are used to secure conduit or cables in corrosive environments.
PVC Coated U-bolt is very versatile and can be used in many industries including but not limited to pipelines, refineries, chemical plants, offshore platform, rigs, paper mills, and in marine applications.
The Use of PVC Coated U-Bolts can reduce the possibility of crevice corrosion or water formation under the pipe therefore giving the secure feeling that your piping is protected. Rust and Corrossion Proof, A Must Use product for Plumbing Contractors.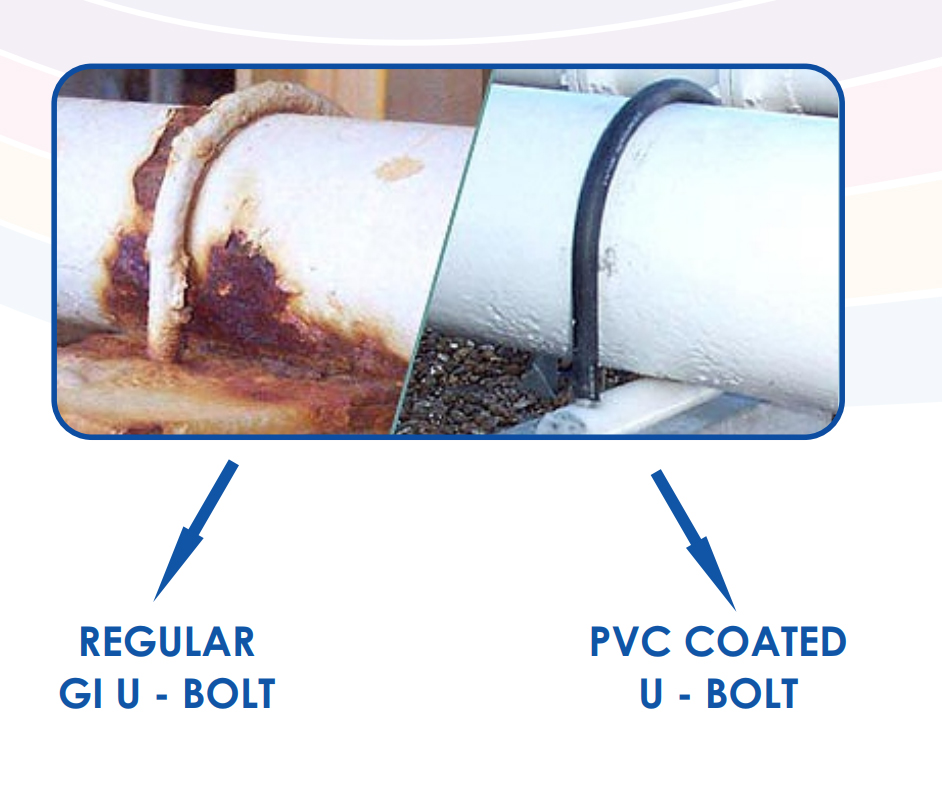 PVC Coated L-Hook/J-Hook
Benefits of using PVC Coated L-Hook/J-Hook

PVC coated beam clamps are used to securely support conduit runs by attaching them to beams, angles, trusses and other structural members.
Rust and Corrossion Proof. Lasts much longer than regular L Hooks and J Hooks.
A must-use product for Roofing Companies. Used Widely to Make Sheds, in Factories, Chemical Plants, Coal mines, Oil Refineries.



Technical Details

Inner Coating : Galvanized Mild Steel
Outer Coating : Virgin Low Density PVC
Coating Thickness : 0.1 - 0.2 mm approx
Color Available : Blue , White and Black
Sustainable Temperature : 250 degrees.
Rust and Corrossion Proof , Scratch Resistant
Longer life than regular U Bolts / L Hooks and J Hooks